About Us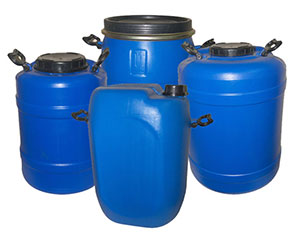 We take this opportunity to introduce ourselves as a leading manufacturer of virgin quality HMHDPE carboys where utmost importance is given to quality and customer satisfaction. We produce barrels from 20ltr to 130 ltr with a manufacturing experience of three decades.
We have 2 manufacturing units at Tarapur & Silvassa with 4 blow moulding machines, 3 injection moulding, an in house tool room & arrangement for multi colour printing of carboys.
In order to deliver best quality products we have installed multi parasin control system.
Our products have to undergo an array of quality tests like drop test, pneumatic test, pin hole test, stack test, scratch test, wall thickness test, handle pull test and leakage test.
Our online checking system ensures that our customers are always delivered the best quality products.

We are suppliers to leading adhesive, agro, chemicals, paints, food processor, pharmaceuticals, etc industries.

Colour and weight of carboy and cap are made according to customer specification.
Multi colour printing is done at our units according to customer requirement.
Our Range of products include
| | | |
| --- | --- | --- |
| -> 20 ltr wide mouth (5 1/2") carboy | -> 20 ltr narrow 2"mouth carboy | -> 25 ltr wide mouth (5 ½") carboy |
| -> 25 ltr narrow 2"mouth carboy | -> 30 ltr wide mouth (5 ½") carboy | -> 35 ltr wide mouth (51/2") carboy |
| -> 30 ltr mouser type 2" mouth carboy | -> 30 ltr jerrycan type 2" mouth carboy | -> 35ltr mouser type square 2"mouth carboy |
| -> 30 ltr full open top carboy press on cap | -> 30 ltr full open top carboy threaded cap | -> 40 ltr full open top press on carboy |
| -> 40 ltr full open top threaded cap | -> 50 ltr full open top carboy | -> 50 ltr square type full open top carboy |
| -> 50 ltr wide mouth (5 ½") carboy | -> 50 ltr narrow 2" mouth with 1" vent carboy | -> 50 ltr narrow 2" mouth rocket type carboy |
| -> 50 ltr narrow 2" mouth dolkia type carboy | -> 60 ltr full open top carboy | -> 80 ltr Full open top (14") carboy |
| -> 100 ltr wide mouth(8") carboy | | |